'Community Radio Station in desperate plea to be allowed to broadcast on FM in current crisis"
Click here to Sign our Petition to encourage OFCOM to allow East Leeds FM to broadcast on FM to help residents of our community receive important information during the coronavirus isolation.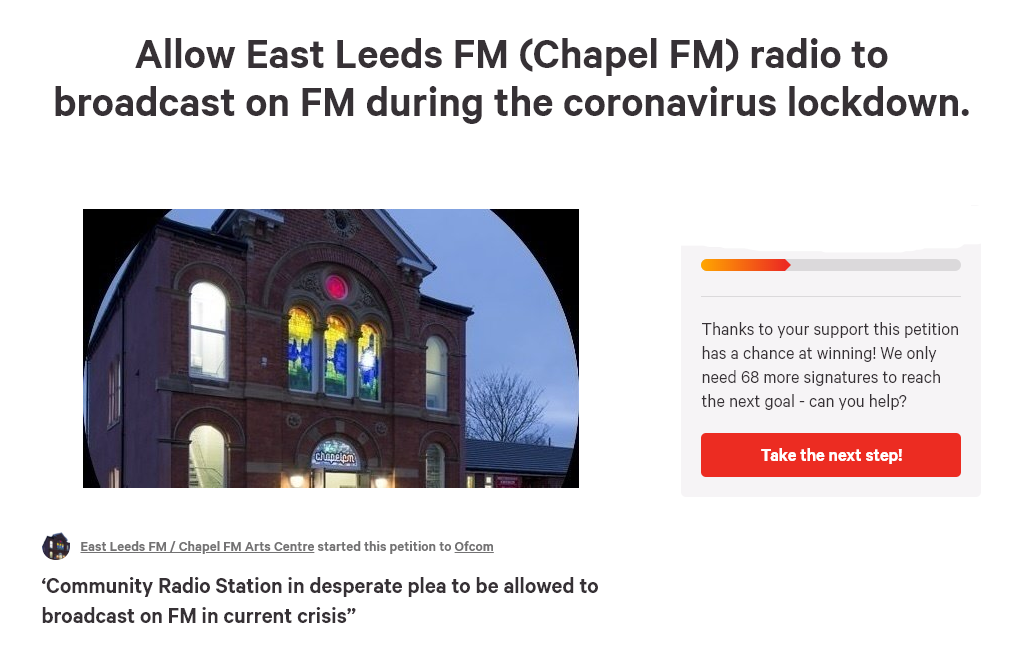 East Leeds FM is a community radio station that could play a vital role keeping older people in their community connected and informed during the current Coronavirus crisis. But, with plans to go on air on Monday, we are still waiting on permission from airwaves regulator OFCOM to switch on the transmitter.
ELFM started as a project from community arts company Heads Together Productions back in 2003. Working with local teenagers, we set up a temporary radio station to broadcast to the local community. Since then the project has gone from strength to strength and even has its own base, a beautifully restored former Methodist Chapel in Seacroft, Leeds called Chapel FM.
Like all other arts venues, Chapel FM is now closed because of the coronavirus crisis. But the broadcasting continues. Phil Driscoll, a retired BBC Sound Engineer, who has been volunteering with ELFM for several years came up with the idea.
"My wife is in the vulnerable category, so we are locked down at home and going nowhere. Early on I realised that the ELFM radio studios would have to close but that we could play a vital role in keeping the community connected, particularly those older people who don't have access to the internet, so we set to work."
What Phil and the ELFM team have managed to do is set up a whole series of remote radio studios in people's bedrooms and attics across the community all connected together. We stripped the ELFM studios for mixers and microphones and developed systems that allow them to create high quality, interactive live radio without anyone leaving their own homes.
We tested it all out, creating 3-hour programmes on the internet aimed specifically at older people, with information bulletins, interviews, poetry, even live living room concerts from local musicians.
At the same time they contacted OFCOM, the broadcasting regulator, asking for permission to switch on their FM transmitter. Co-Director Adrian Sinclair explains:
"OFCOM has given us plenty of short-term licences to broadcast in the past and has even offered us a full-time licence. Of course, it normally takes months to get permission, but we knew we had to get this going quickly. We gave them all the information they could want and pointed out that this was an extraordinary situation. Basically we pleaded for them to act quickly."
ELFM's request for a licence has been supported by local organisations working with the elderly and vulnerable through the newly-formed Seacroft Support Network, part of Leeds City Council's emergency response. Our local councillors and local MP Richard Burgon have written to OFCOM, and even the Shadow Culture Secretary, Tracey Brabin has been in touch with OFCOM on their behalf.
The latest response from OFCOM earlier this week stated that that they "recognise the importance of services of this kind and will be in touch soon."
Currently we are broadcasting digitally and are awaiting approval from Ofcom to begin broadcasting on FM. This will enable members of our community who do not have internet access (especially older people) to listen to these programmes, receiving key information and countering social isolation.
By signing this petition, you will help us make to case to Ofcom that ELFM going on FM quickly will fill an important community need in this challenging time.
Please also leave comments.
Thank you for your support!