Our organisation
Chapel FM Arts Centre and East Leeds FM Community Radio Station are both projects of community arts organisation, Heads Together Productions Limited. You can find a brief history of Heads Together here together with information on policies and practices.
Background
Heads Together was originally created as a physical theatre company back in 1986. It wasn't until 1998 that it launched as a fully fledged community arts company, and as a not-for-profit company limited by guarantee—Heads Together Productions Limited.
But the story is about a developing purpose and methods as well as a change in corporate structure—identified in a website we put together in 2011 to mark the 25th anniversary of Heads Together. The website charts three phases of the company:
1986 to 1992 The Early Years The Company was created as Heads Together Physical Theatre in October 1986. Originally founded by Gerry Turvey, Adrian Sinclair and Tamsin Spain–the first years saw the Company develop their own style of performance, alongside a strong belief in finding ways to share the ownership of the work they created.
1993 to 2002 The Street Years Having lost touring money, the big performance-based residencies became a thing of the past. But there was still a great demand for Heads Together's participatory work. In this phase of the Company's development, we really focused on our education work: both in a formal setting in schools and colleges, and in more informal community settings: On the Streets.
2003 – 2010 The Digital Years As digital possibilities increased, Heads Together was in the forefront of looking at the creative possibilities… in a community context. For us that meant finding appropriate uses for the new technologies, often linking the digital to the analogue eg using mobile broadband to broadcast a digital radio station from a 1980s Marauder caravan! If you follow the links you will find a lot more detail…
And if we carried on the theme then 2011-2019 would be the Chapel years—developing a beautiful arts centre from a derelict Methodist Chapel and looking at how best to support a thriving community resource.
It is so important that facilities, such as yours, are there to support local communities

Jeremy Corbyn MP

Leader of the Labour Party

30/11/2017

Last year 17,942 visitors came to Chapel FM (a massive 78% increase on the previous year).

Chapel FM Annual Report

It's about time East Leeds had an arts venue of it's own to be proud of. Chapel FM is it.

Tom Riordan

Chief Executive of Leeds City Council

08/09/2014

68% of visitors to Chapel FM are local to East Leeds living in the LS14 & 15 postcode districts

Chapel FM Annual Report

Last year we had a total listenership of 48,121 online and on FM and our streamed videos had 280,000 views
Current organisational structure
As mentioned, the responsible organisation is Heads Together Productions Limited; a not-for-profit company by guarantee. The company is run by a voluntary Board of Directors. If you want to contact the Board directly then please either write to the Chair of the Board at Chapel FM, York Road, Leeds LS14 6JB or email board@headstogether.org The Board is responsible for the future direction of the organisation as well as overseeing policies and practices regarding the day-to-day operations of the Company and it's staff and operations.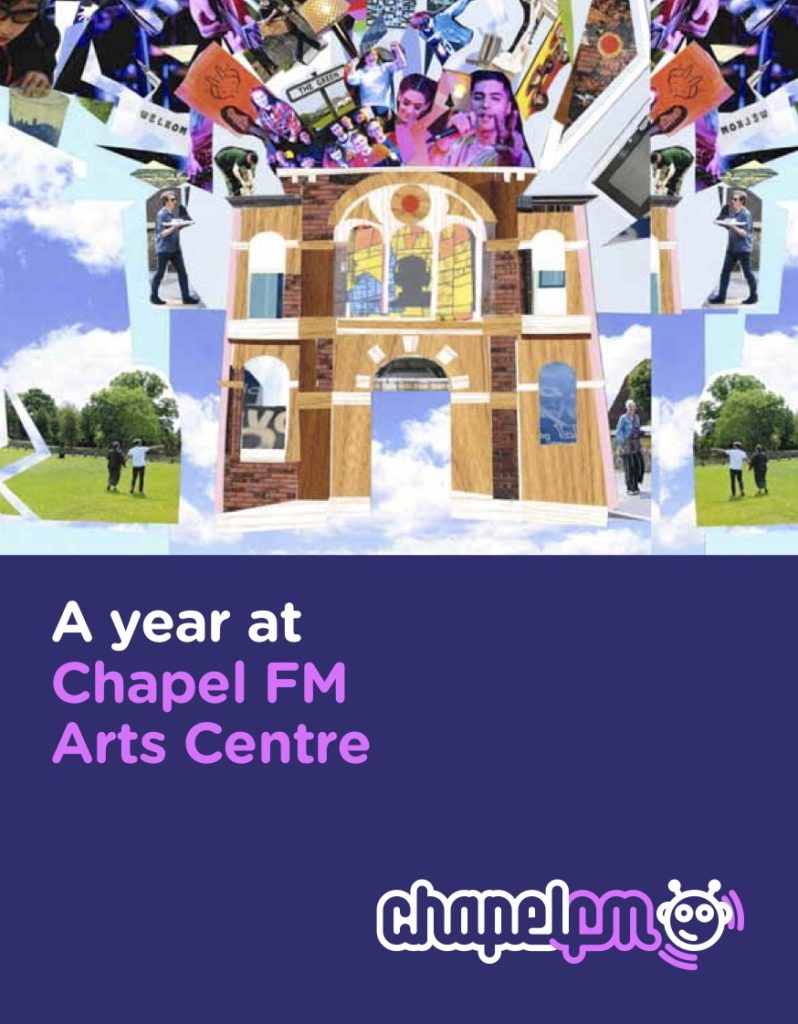 The following documents might be of interest:
Current policies Below are a few of Heads Together's key policies and procedures. Please contact us directly if you would like further information or details of other policies.
Heads Together Productions—A Manifesto
Heads Together believes in:
the transformative power of involvement in significant creative processes
the power of creativity in effecting positive changes in social and community settings
providing opportunities to develop everyone's creative potential
active creative collaboration between artists and other professionals
achieving the highest quality
productive partnerships with other professionals/agencies to effect long-term results
the continued development of our own skills and art form practice
Heads Together respects:
the equal importance of artistic and social aspirations
the particular contribution people in communities make to the process, in partnership with Heads Together
the need to understand the importance of the political, social, cultural and economic context within which we work
Heads Together will:
develop imaginative, inspiring and meaningful creative work with people
set up inclusive frameworks for involvement in creative work
value individual identity
maintain, along with project participants, a clear understanding of the purpose and aspirations for any programme of work
exercise a duty of care regarding the impact a project may have on participants, communities and partners
support the potential for individual and group progression
With acknowledgement to Jennie Hayes – January 2004 Full copy of the Manifesto available to download