Make a donation to help us buy radios for those in need during the coronavirus pandemic.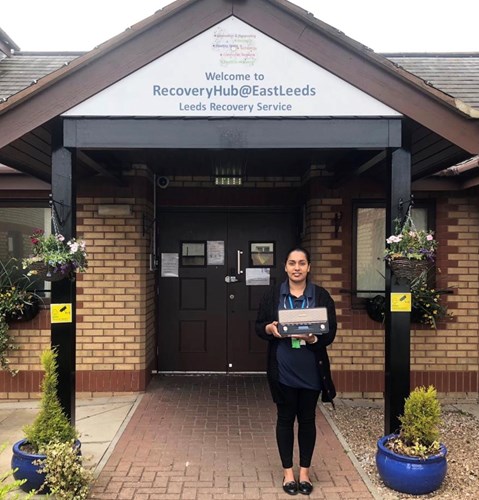 Community Engagement Worker, Kiran from the Recovery Hub in East Leeds.
East Leeds FM (ELFM) has been responding to the coronavirus lockdown in a unique and powerful way. We are always looking for the best means to support our community in an ever-changing landscape and our response to Covid-19 is no exception. ELFM (as part of Chapel FM Arts Centre) has played a vital role in keeping older people in East Leeds connected and informed during this unprecedented time. We would like to do everything we can to reach those who are most at risk. We believe radio is an important life-line for an older generation who must not be forgotten.
ELFM recently teamed up with Seacroft Friends & Neighbours to distribute radios:
"The older residents in Seacroft are so uplifted by the fact that they can now turn on their radios and hear people from their own neighbourhoods talking in such a direct way. What ELFM is doing really brings some good cheer and a sense that we're all in this together. It's also such a treat for people to receive these lovely radios as unexpected gifts."

Kate Taverner, Seacroft Friends and Neighbours
In April ELFM became one of only three UK community radio stations that was granted by OFCOM a special temporary broadcasting licence during the coronavirus epidemic. This allowed the team to broadcast at 94.6 FM to communicate vital information, entertainment and local stories, to the people of East Leeds. Since then, we've been running a one-of-a-kind daily radio show called 'Keeping a Distance, Staying Close' each weekday from 6:45am to 4:30pm (along with a variety of other unique programmes later on in the day).
"It has been so nice to listen to these broadcasts, they make these long days so much shorter. I have been in the flat which I love for 8 weeks now."

East Leeds resident Pearl Allen.
These local ELFM radio programmes have been collecting the sounds of our city in the midst of the coronavirus lockdown. Broadcasting on FM has allowed us to share information from other organisations in Leeds; offering support on a variety of issues such as mental health, ageism, women's aid, recovery hubs etc. We also take song requests, shout outs and dedications to family members encouraging listeners to reconnect with their loved ones. Our station acts as a companion to those feeling extremely isolated and alone during this period. We want to ensure that those who need support are reached.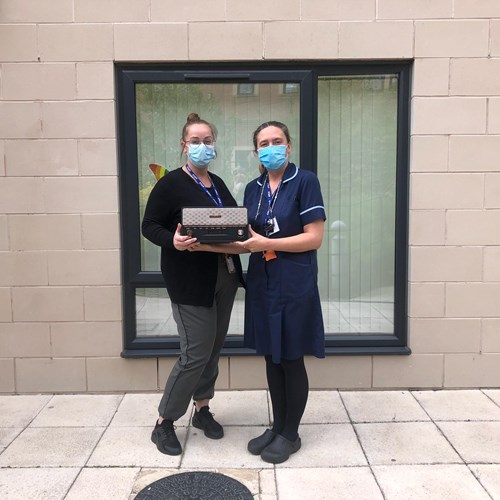 Staff from Seacroft Green Care Centre
Your donation will allow us to continue purchasing radios for people who would benefit from a connection to the outside world during lockdown. We have already donated more than a dozen radios to care homes, charities and individuals in our community. Every £30 will give us the opportunity to deliver a radio and build a relationship with a local resident. We also hope to sustain these relationships beyond lockdown.
For more information about East Leeds FM please visit our website www.elfm.co.uk and find us on Facebook, Twitter & Instagram.
Click here to contribute to radio for residents of East Leeds
Thank you & take care,
East Leeds FM Team