Ways to Pass the Time…
Stuck at home during lockdown? Looking to pick up a new hobby? Need some ideas on how to spend your time? Tune in to 'Ways to Pass the Time' broadcasting weekly as part of ELFM's 'Keeping a Distance, Staying Close' programme.
Creative Writing
http://lydiaallison.squadsite.uk/
This week we've been talking about CREATIVE WRITING and how this new hobby could be a way of expressing yourself, experimenting with language or simply a way of trying something new.
If you didn't catch the conversation between Lydia Allison and myself, you can listen on catch up via the ELFM player.
Below is a quick recap of LYDIA'S WRITING PROMPTS to get you started:
AUTOMATIC WRITING allows you to let go, free up your subconscious and simply write – without stopping!
Set yourself a timer for one or two minutes and begin. We would advise using a pen and paper – do not let that ballpoint come off the page. There's no going back and there are no wrong answers.
You might have a subject in mind or you can simply look at the words around you. Why not use the first line of a story, newspaper article, advertisement, etc? Don't agonise over what your starting point is – by the end of the piece you might be writing about something that has nothing to do with the beginning.
Grammar, structure, sense, all go out of the window…repeat things, avoid self-censoring, let it flow.
Even if you end up writing "I don't know what to write" over and over again, that's fine – just keep going until something different pops into your head…and believe me it will!
Don't think, just write and see what comes out.
WRITING ABOUT OBJECTS can be quite nostalgic. We're all stuck inside our homes for the foreseeable future, so why not think about the "stuff" around you. What sentimental value does it hold? Does it have a story of its own? Who gave you this object? Did you find it? Did you borrow this object and never give it back? Was it a gift? Why is it important? What are its functions? What story/memory does your object hold?
WRITING ABOUT BEING AN OBJECT can be a really fun exercise that liberates you from thinking too hard about what "your opinions are" and what "you want to write about". Free up your mind, take the pressure off and explore a different voice.
Ask yourself: What would the phone say to the answering machine? What type of relationship would they have? Would they be friends? Enemies? How would your front door feel about being constantly knocked on? Would there be a tragic romance between the hot and cold tap? What characteristics could these objects have – a paranoid plug socket perhaps? Anything is plausible…
BLACKOUT POETRY is when a participant takes an already established text – newspaper, magazine, book, etc. – and circles words that make a sentence/poem/stream of consciousness. The participant then covers the rest of the remaining text up using a marker – usually black but if you want to experiment with colour, go for it! Lots of poets draw over text and create great visuals as well.
You can also cut up pages of text and place words in a bag/bowl/container etc. Then pick out a handful of words and see what you can make. If you're feeling even more adventurous try throwing them in the air and see where they land. Let this action dictate the way those words are put together.
WRITING ABOUT SOMETHING 'PHYSICAL' is a great way to get your senses involved in your writing. It can be a good way of remembering/discovering why you choose to do certain things. You could pick a sport to write about – maybe you played cricket in the past or perhaps you've taken up a new sport such as running or cycling. How would you explain the physical process of this action to someone who is new to this physical activity?
There are lots of things we do with our hands and your subject choice might be more domestic like cooking, building furniture, making a jigsaw, etc.
Be sure to talk the reader through your activity and describe why that action is important and meaningful to you.
FINAL TIP – enjoy and have fun!
Knitting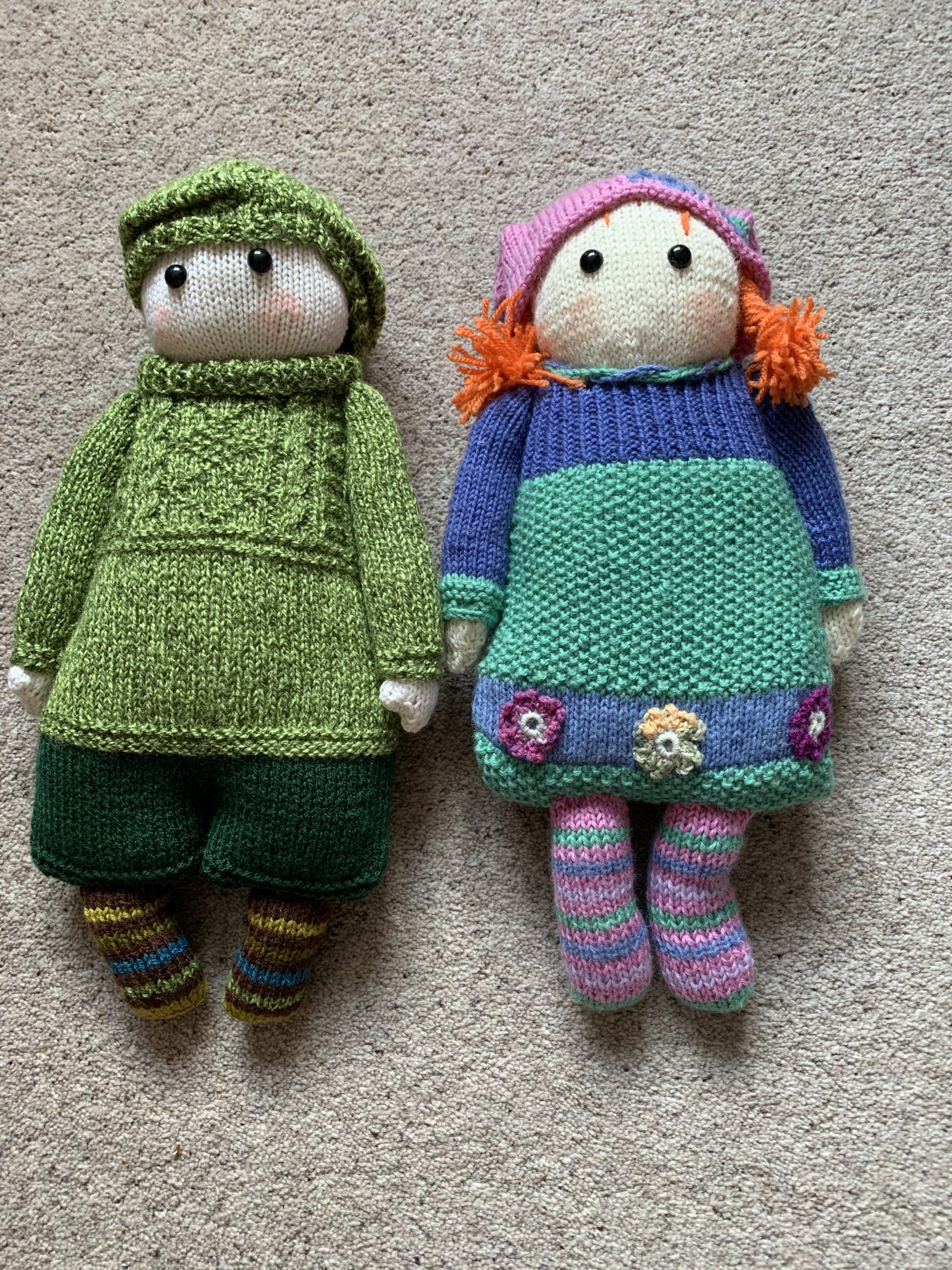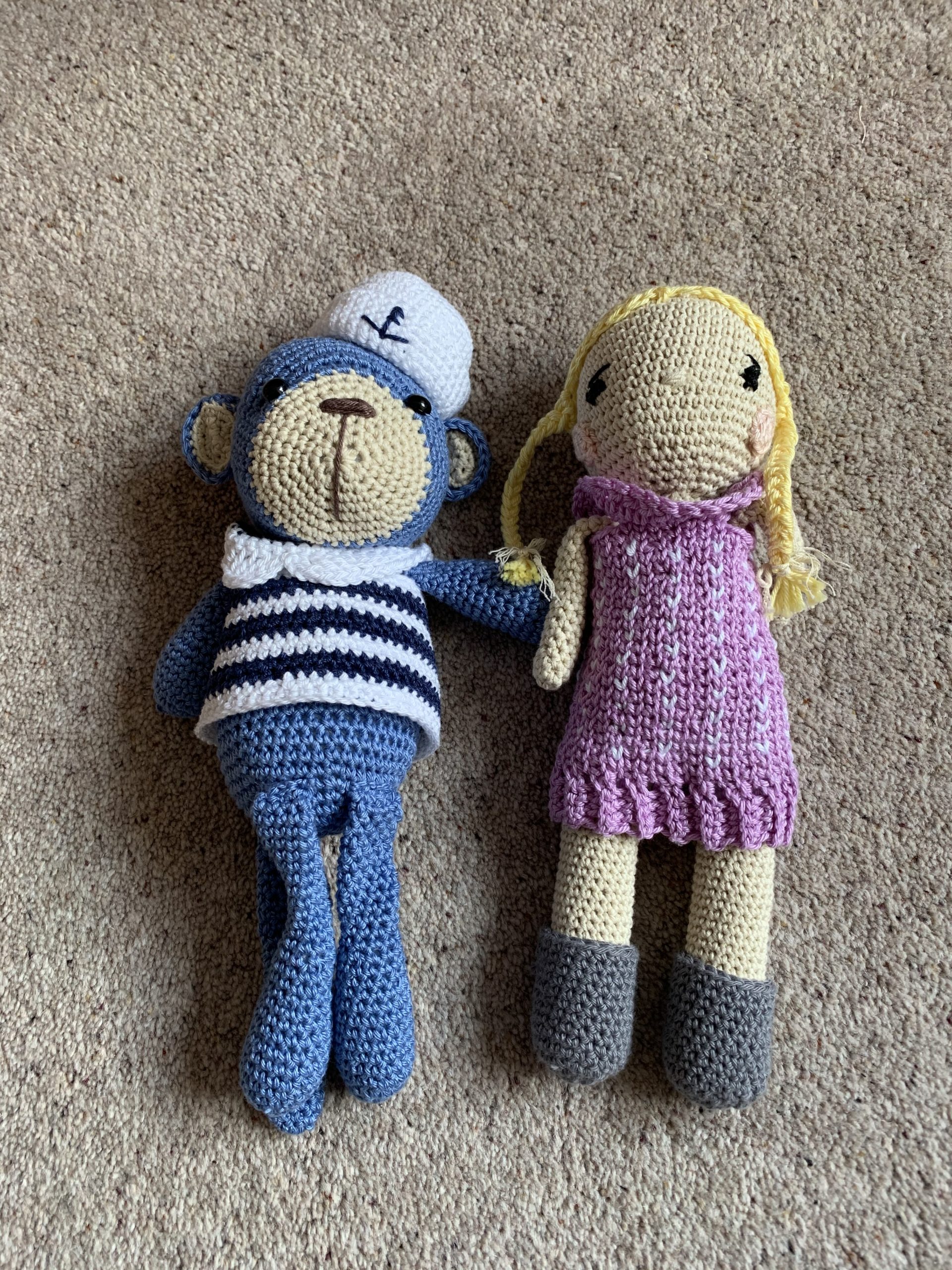 "These people did really exist and they made me things."
This week we've been talking about KNITTING and how this new hobby allows you to give to others, socialise and test your brain in a new & exciting way.
Ruth's amazing work as a foster carer really shone through in this interview.  Caring for newborn babies gave Ruth a reason to knit and this lovely expression of love through making something from scratch really stuck with me.
If you didn't catch the conversation between Ruth Bruins and myself, you can listen on catch up.
Also, if becoming a foster carer is something that you would like to find out more information on, then please visit: https://www.leeds.gov.uk/foster4leeds
Facebook: @LdsFosteringAdv
Instagram: @foster_4_leeds
Twitter: @LdsFosteringAdv
So as promised, here's a recap on Ruth's top tips to get knitting:
What do you need?
Needles, yarn, and a pair of scissors – if you want to get more technical a needle and thread (tapestry or embroidery needles).
There are lots of different sizes of needles – circular, straight, different lengths. If you're just starting off, get one of the larger sized needles – 5 millimeters, a straight one and fairly long so your stitches don't drop off.
The kind of yarn/wool (same thing!) you get and the needle size, this is what's important. Normally a ball of wool will have a label that will inform you of which type of needle to use for that type of yarn.
The most common wool is called double knitting – lots of different prices out there, so make sure to browse for the best price!
Where can you access those materials?
If you can find a starter pack this is always a great way to get going. Try Aldi, Lidl, B&M, Hobbycraft, Samuel Taylors, Leeds Wool Shop, Baaramewe, and Leeds market. Here are some important links:
https://www.thewoolshopleeds.com
https://www.samueltaylors.co.uk
What item would you advise making first?
The most common item that most people start with is a scarf in garter stitch.
Let's talk about stitching:
There are two stitches in knitting – knit and purl. To make a scarf you would use only 'knit stitches' and this is called a garter stitch.
Garter stitch – knit all the rows
Stocking stitch – knit one row, purl the next.
Rib stitch – a row made up of alternating knit and purl stitches. The base of any jumper that you're making will be a rib stitch.
Need a visual? Click here: https://bit.ly/2VYvVnv
What is a pattern?
A pattern tells you, in sections, how to make a particular item.
Where can I find a pattern?
Books
Magazine – 'Let's Knit' – check the supermarkets!
Online – YouTube/Pinterest etc.
Note – try to buy the same wool that is stated in the pattern in order to get your item to look like the one in the book, magazine, online, etc.
So why knit?
A fantastic way of relaxing
Mentally stimulating
You can create heartwarming gifts from scratch
You can knit whilst doing other things
It's sociable – Baaramewe is doing a virtual knit night between 6-8 pm on Thursdays or check-in to their virtual knit and natter drop-in session between 11 am and noon each Wednesday. Just follow the link for more info: https://bit.ly/2S6fGDW
When things go back to normal here's a few community hubs for knitting in East Leeds:
Seacroft Knit and Natter Group:
Seacroft Community Hub from 10 am-12 pm on Wednesdays. All ages welcome
The Seacroft Purls
Seacroft Library from 2-3 p.m, every 3rd Wednesday.
The Spin and Yarn Group 
Cross Gates Library  –  welcomes all knitting abilities, 1.30 – 2.30 pm every 2nd and 4th Thursday.
Cooking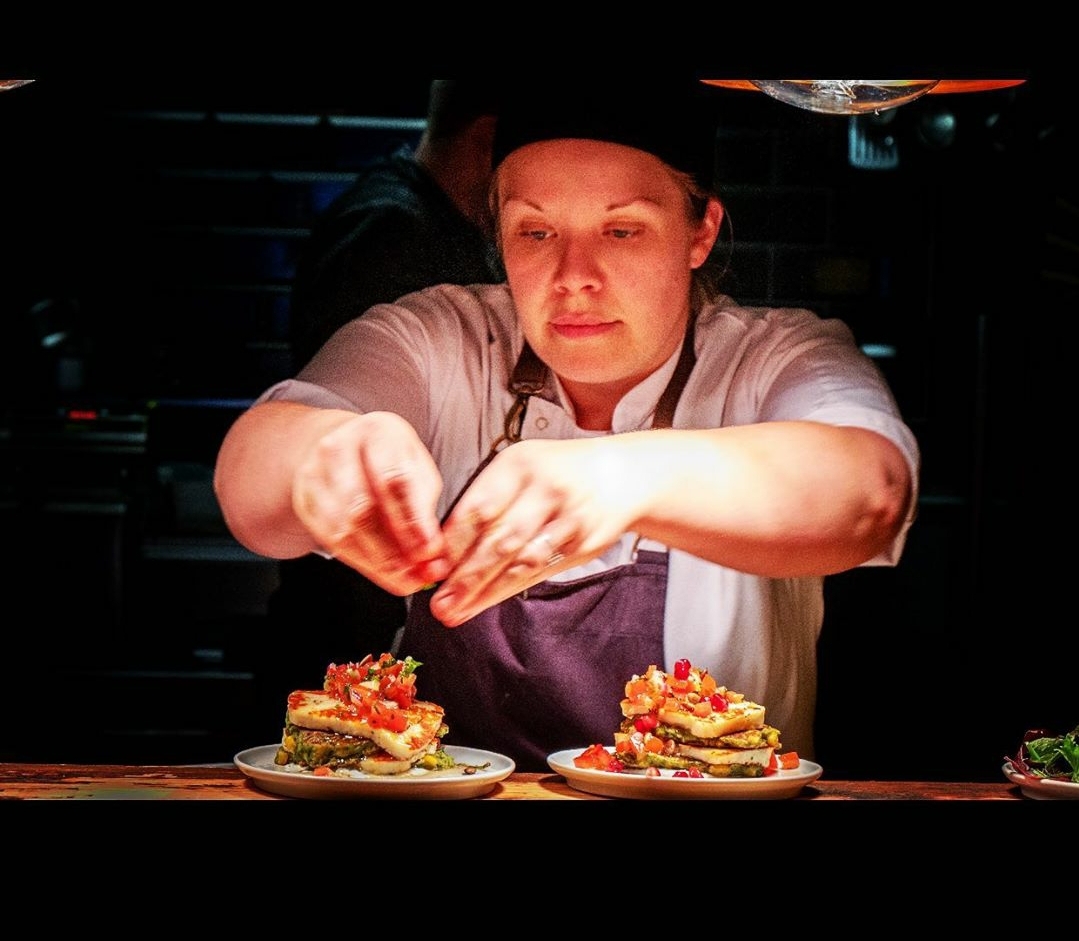 Kathryn Boddy-Smith is the head chef at Hessian Cantina in Roundhay (www.hessiancafe.co.uk).
She spoke to Chapel FM about using simple ingredients to cook tasty recipes during lockdown.
Chicken Casserole
4 chicken thighs on the bone
1 leek- washed and sliced
1 onion- peeled and sliced
3 carrots- peeled and sliced
500ml warm water with 2 chicken stock diluted
150g halved brown/white mushrooms
2 garlic cloves- peeled/sliced
1 tbsp dried thyme/ 2 sprigs of fresh thyme
2tbsp plain flour
Preheat oven 190 degrees/ Gas mark 5
Heat pan with a little oil. Season chicken with salt and pepper then brown the chicken thighs skin side down. Once browned flip and cook on the other side until brown also.
Add mushrooms and onions to the pan, cook until brown then transfer to an oven-safe dish.
Add flour, carrots and leeks to the dish and mix well adding the chicken stock and thyme. Place in the oven for 45 minutes
After 45 minutes add leeks to the casserole dish, then cook until leeks are tender. This takes roughly 10 minutes. The chicken should be soft enough to pull away from the bone easily.
Pastry
225g plain flour
100g butter diced
pinch of salt
Sift the flour into a bowl and add 100g of diced butter- rub in fingertips until it resembles fine breadcrumbs and no lumps of butter remain.
Add a pinch of salt and 3 tbsp water.
Add 3tbsp water until it forms a dough, knead until smooth.
Wrap in cling film and you can store in the fridge for up to 2 days. Remember to factor in time for the pastry to warm a little before using it.
Bolognaise
250g white onion
2 carrots peeled
2 sticks celery
150g white or brown mushrooms
15ml oil, any will do!
2 garlic cloves- peeled
450g beef mince
2 tsp dried oregano
2tbsp tomato paste (can use fresh or tinned tomatoes)
salt and pepper to taste
200ml water- chicken stock cube dissolve
A splash of red wine if you have some open! I sometimes use a little Port. (Optional)
If you have a food processor you can roughly chop carrots/celery/ mushrooms and garlic then blend with oil and tomato paste (or fresh).
If no processor then slice the mushrooms, crushed garlic and finely chop celery, carrots and onions. Fry off until browning.
Cook paste/veg off until starting to brown then add the mince. When the mince has browned, add wine and stock to deglaze the pan- removing any caramelised pieces from the bottom. Add oregano and a little salt and pepper.
Turn down the heat and leave to simmer for 45 minutes stirring occasionally so that it doesn't stick. Then adjust the seasoning to your liking and serve.
French Toast
Good to use up some bread that's a little stale. Can be used as a savoury or sweet option.
4 pieces of bread
1 egg mix with 120ml of milk
If making sweet you can add some vanilla essence or cinnamon to the mix.
If making savoury try it with a little crushed garlic and mixed herbs.
Whisk egg and milk together. Add alternative sweet or savoury filling.
Heat a pan with a little oil
Dip a slice of bread in the mix
Place in the pan laying away from yourself. When browned turn over and cook on the other side.
When the bread is cooked on both sides – if you are doing the sweet option – you might like to top with a little sugar, cinnamon or icing sugar. Add berries and ice cream too!
For savoury try topping with some fried mushrooms or bacon for breakfast.
Crumble Mix
You can use any fruit that may have gone a little soft –  berries and apples are perfect.
Fruit Mix: 1kg fruit- If using apples you can leave the skin on if you wish, it will make it a little more tart. Any Strawberries, blueberries, raspberries that need using up and 100g sugar – depending on how sweet you like it.
Wash apples or peel- cut into quarters, remove the core and chop into chunks.
Add apples or fruit to a pan with a little sugar. Cook on a medium heat for around 5 minutes until the apple starts to break down.
Transfer to an ovenproof dish
Crumble Topping-
50g rolled oats
100g plain flour
75g butter diced
100g sugar
Sift the flour into a bowl and add 75g diced butter- rub in fingertips until it resembles fine breadcrumbs and no lumps of butter remain.
Stir in the oats and sugar then cover your fruit mix.
Place the crumble in the middle of the oven for around 25 minutes until golden brown.
You can add a little cinnamon or nutmeg to your fruit or crumble mix depending on your taste.
Flapjack
120g porridge oats
2tbsp golden syrup/honey
60g sugar (any you have)
60g soft butter
Heat oven to 190
Mix all ingredients in a bowl
Grease a tin using a little soft butter and fill the tin with the mixture pushing it down firmly.
Cook in the oven for 10 minutes until a nice golden colour. It will be soft when you take it from the oven and then harden as it cools.
Feel free to add dry fruits/ chocolate or nuts as you wish
Butter Biscuits
100g soft butter
50g castor sugar
150g self-raising flour
Line a baking tray with parchment.
Preheat oven to 180 degrees.
Mix sugar and butter in a bowl until fluffy and pale.
Sift in the flour and mix gently until the mixture is combined.
When the dough is formed you can measure out each biscuit ball using a teaspoon as a scoop. Leaving plenty of room between for the spreading on the parchment.
Wet a fork with water and lightly press each biscuit down.
Bake until golden brown- around 10-15 minutes.
Need a quick fix?:
Supercook is an app/website that creates instant recipes for you when you add ingredients: https://www.supercook.com/#/recipes
Need some visual inspiration:
'Keep Cooking and Carry On' with Jamie Oliver can be watched on Channel 4. Be creative with whatever ingredients you've got at home using tips, tricks and simple swaps. Click here to find out more.
Please send us your recipes or foodie snaps during lockdown! Big thanks to Kathryn for all of her fabulous lockdown recipes 🙂