A sector-based coaching programme for emerging community artists and social activists across the north of England.
Background
The Academy for Creative Activism idea has been developed by established community arts organisation Heads Together Productions, which currently runs Chapel FM Arts Centre in East Leeds. Having been involved in the Artworks Initiative we were determined to develop better pathways for the next generation of community artists, particularly those from diverse backgrounds.
The idea of an Academy has been awarded Explore and Test funding from the Paul Hamlyn Foundation and we are currently having discussions with interested parties as we develop a network of people and organisations who are interested in the approach.
Pilot Programme
We are planning to recruit a diverse cohort of 20 participants for a 12-month programme starting January 2019. The programme is aimed at young emerging artists and activists who have completed their formal education and are entering the workforce.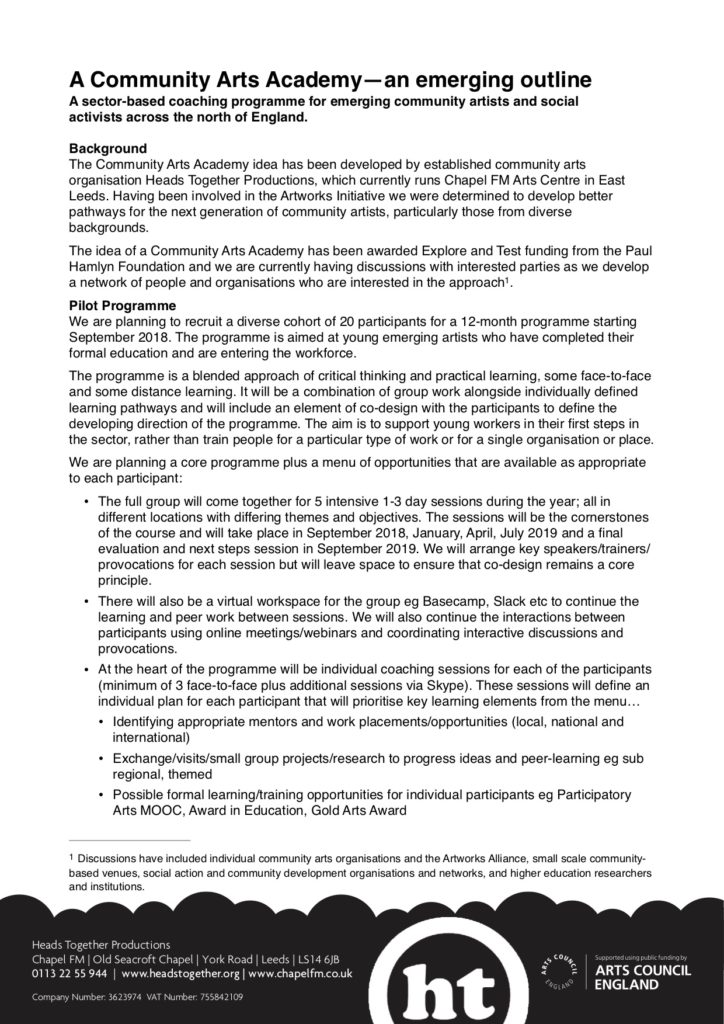 You can have a look at our outline ideas in the document attached.
Whilst keeping the pilot manageable we are looking to open up the development process and intend to continue the conversations with interested people and organisations, potential participants etc.
Please get in touch if you have thoughts or suggestions on any aspect of the project. Or you might be able to offer practical help, for example:
You can link us in to potential participants (or you might be one yourself);

You might be interested in joining our reference group or becoming a partner;

You could offer opportunities during the pilot programme eg host one of the intensive sessions, offer mentoring or work placement opportunities to individual participants…
If you are interested—then contact us via the form below…